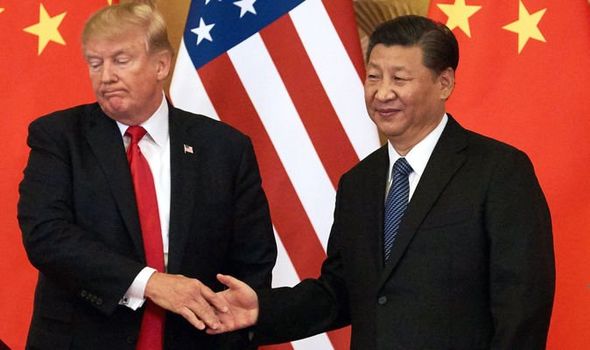 EPISODE 145 AWESOMERS.com Podcast for Entrepreneurs, Creators, Thinkers, Geeks and those who aspire to become just like them.
---

---
---
PODCAST SHOW NOTES
Since as a country we now seem to manage international policy on Twitter, the American President Donald Trump tweeted and escalated the Trade dispute recently. We think he did it just to make Steve look wrong.
In today's show, Steve breaks down where we are now and what it means.
As always, take a deep breath.
There is a solution to every problem.
But the enhanced rhetoric is a reason to pay close attention.
Based on all of the facts we have we should pay close attention to the time frame of June 1, 2019, as a reference point. If both China and the USA start to smooth out the talk and especially if we have a "pause" button again then there is a real possibility we can ride out the storm.
However, given the day to day escalation of this war of words, it does appear that Steve's assessment of this being a trade kerfuffle may have been wrong and that Trump is playing to win and the Chinese are playing to not lose.
This means Trump has to come out with a full house to brag about it so he can be re-elected. President Xi just has to wait out Trump's term and put pressure points on Trump voters (farmers, blue collar, even some high tech, and USA manufacturers) and hope that someone else is elected President. That said, Xi will have to pull a straight flush to beat Trump if he remains in office because manufacturers are setting up all over the world outside of China.
China faces the largest potential exit of capital in its history and the ongoing trade with other countries WILL impact China. Yes, China does have a rising consumer economy of its own but they can not service their massive off-balance sheet debts and shadow loans without continuous surplus from the USA. All of China knows this.
There are a ton of factors in play that Steve talks about in the podcast today far beyond simple tariffs.
If the winds are blowing negative after the first part of June Steve will start moving as much manufacturing as possible out of China.
He estimates he can move 90-95% of product out of China over the next year.
The risk is that this whole "trade war" could be a head fake.
Trump and Xi could settle this suddenly one day and the cost and effort of moving will be a heavy burden to bear.
The opportunity cost of moving and the risk of it being unnecessary are all part of the equation that Amazon Sellers, e-commerce importers, and brand builder must consider.
Steve is preparing his team to start sourcing the same products outside of China for Empowery members as well.
If you buy products from China and ship them anywhere you should pay attention. If you buy products from China and ship them to the USA you should subscribe, join our email list, and stay plugged into this information every single day.
Your competition that is buying from China is facing the same pressures, except of course the Chinese based sellers that will game the HTC codes, play with different Importer of Record and generally game the system to subvert the law. (This is not unique to the Chinese, their just the best at it.)
It seems that Amazon encourages this sort of behavior by focusing on more and more Chinese sellers to "cut out the middleman" as a recent Amazon recruiter told Chinese manufacturers in Shenzhen China in April of 2019.
If the law is enforced we can all find a way to win and survive. If it is not those who play by the rules face extinction.
There is always opportunity in chaos! This is why we need to join together in the non-profit member-owned cooperative Empowery.org to have our voice heard.
FINAL THOUGHTS:
Thanks for being Awesomer!
Steve Simonson has no personal affiliate deals with any of the named resources and his time is volunteered for the benefit of the Empowery eCommerce Coop.
Do you agree with Steve's comments on today's show? Connect with us using the below or find Steve on Twitter or Instagram @stevesimonson and let him know just how wrong he is. ;)
The audience will still be able to keep in touch with the team online through the website and
the
Facebook page
.
Please take a minute about engaging with the show's sponsors if you find what they're doing as valuable to you.
For the avid listeners, Steve wants to thank you personally for listening and if you haven't already would you please subscribe and leave a review?
Check out the
Empowery.org
site to learn more about the Empowery membership, vendors, or affiliate partnership as well as other new programs.
Neither Awesomers.com nor
Steve Simonson
personally have any affiliate relationships. Any promotion or financial links are
Empowery
links provided for the benefit of that vital non-profit member owned cooperative. Steve does own a passive interest in SellerChatBot.com.