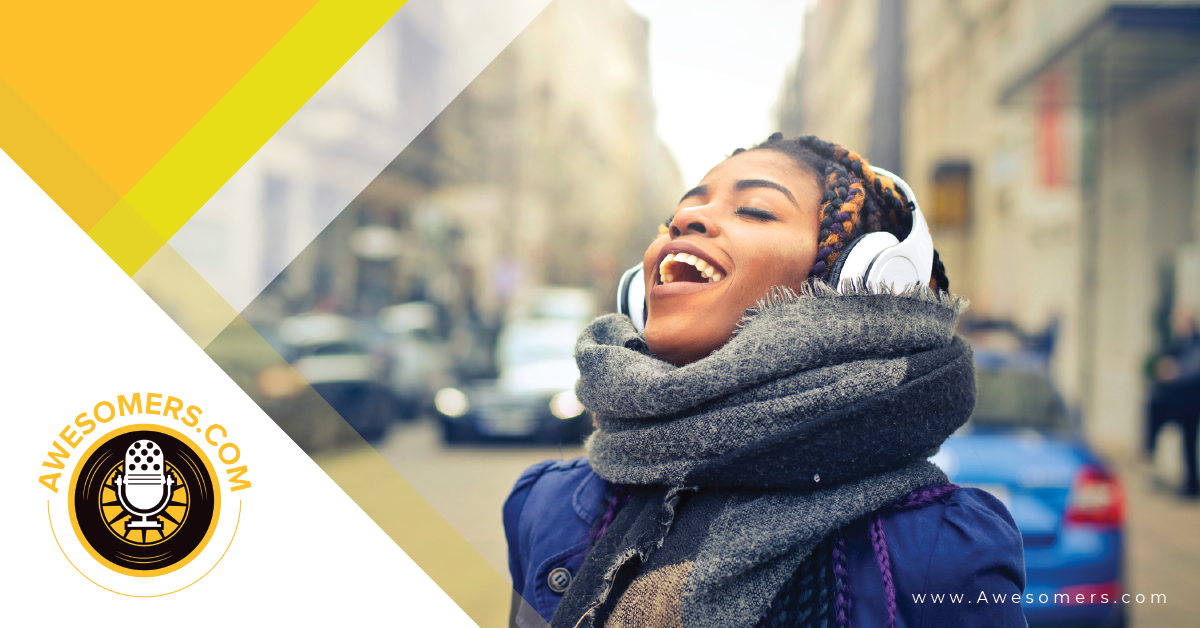 Top 3 Questions related to the eCommerce Business
EPISODE 138 AWESOMERS.com Podcast for Entrepreneurs, Creators, Thinkers, Geeks and those who aspire to become just like them.
---

---
The Easiest Chatbot for Amazon or eCommerce startups
---
PODCAST SHOW NOTES
Ecommerce Business - What are the most common e-commerce related questions?
We're tackling the top 3 questions about e-commerce today.
1) When did ecommerce start?
There are lots of opinions about when ecommerce began, but according to ecommerce-land.com it all began in 1991 when the Internet was commercialized. Here is a snippet:
History of ecommerce dates back to the invention of the very old notion of "sell and buy", electricity, cables, computers, modems, and the Internet. Ecommerce became possible in 1991 when the Internet was opened to commercial use. Since that date thousands of businesses have taken up residence at web sites.
At first, the term ecommerce meant the process of execution of commercial transactions electronically with the help of the leading technologies such as Electronic Data Interchange (EDI) and Electronic Funds Transfer (EFT) which gave an opportunity for users to exchange business information and do electronic transactions. The ability to use these technologies appeared in the late 1970s and allowed business companies and organizations to send commercial documentation electronically.
Although the Internet began to advance in popularity among the general public in 1994, it took approximately four years to develop the security protocols (for example, HTTP) and DSL which allowed rapid access and a persistent connection to the Internet. In 2000 a great number of business companies in the United States and Western Europe represented their services in the World Wide Web. At this time the meaning of the word ecommerce was changed. People began to define the term ecommerce as the process of purchasing of available goods and services over the Internet using secure connections and electronic payment services. Although the dot-com collapse in 2000 led to unfortunate results and many of ecommerce companies disappeared, the "brick and mortar" retailers recognized the advantages of electronic commerce and began to add such capabilities to their web sites (e.g., after the online grocery store Webvan came to ruin, two supermarket chains, Albertsons and Safeway, began to use ecommerce to enable their customers to buy groceries online). By the end of 2001, the largest form of ecommerce, Business-to-Business (B2B) model, had around $700 billion in transactions.
Read full article at ecommerce-land.com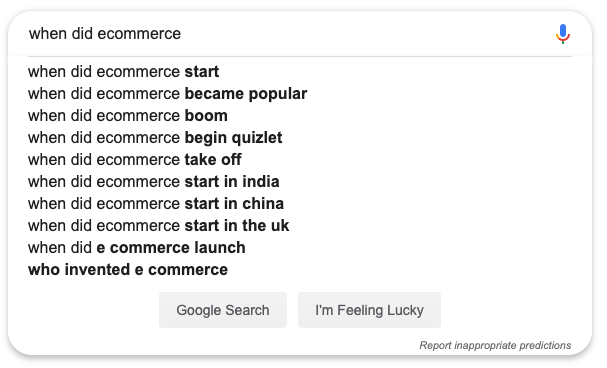 Some of the most common questions about ecommerce origins:
when ecommerce started
when ecommerce begin
ecommerce when did it start
when did ecommerce take off
when did ecommerce start in india
when did ecommerce begin quizlet
when did ecommerce became popular
when did ecommerce begin in india
when did ecommerce boom
who invented e commerce
when did ecommerce start in china
when did ecommerce start in the uk
when did e commerce launch
when did walmart ecommerce start
when is webflow ecommerce coming
when did amazon ecommerce start
when to use ecommerce
2) Will ecommerce take over retail?
Many pundits wonder, especially when they are on camera, if ecommerce is going to kill traditional retail stores. A Forbes article written by Steve Dennis takes that question head on. We have our opinions on this topic as well, but overall the death of retail is over hyped. What is true is that the landscape is changing and those who fail to adapt will go the way of the dinosaur.

Snippet:
It seems as if those who spend a lot of time worrying about the future of retail have fallen into one of two camps. There are the "retail apocalypse" proselytizers who would have us believe that virtually all shopping will eventually be done online, that most brick-and-mortar stores are doomed and that anyone who says otherwise is a dinosaur. At the other end of the spectrum are the disruption deniers who acknowledge that the retail climate is indeed changing but who take comfort in the fact that physical retail is still growing and, more notably, that e-commerce represents "only" about 10% of all retail.
Read the full article at FORBES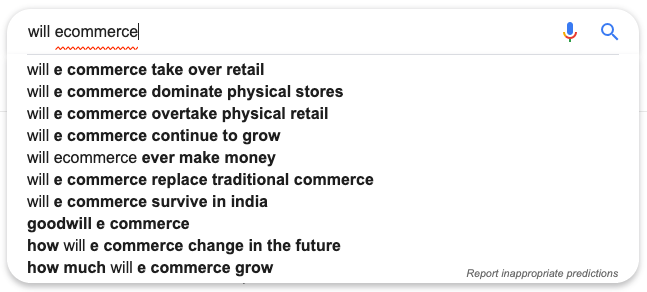 Top questions about ecommerce taking over retail:
will ecommerce ever make money
will e commerce replace traditional commerce
will e commerce dominate physical stores
will e commerce take over retail
will e commerce overtake physical retail
will e commerce continue to grow
will e commerce survive in india
goodwill e commerce
how will e commerce change in the future
how much will e commerce grow
how big will ecommerce get
ecommerce will dominate
3) Can ecommerce make you rich?
Too many people ask the wrong questions about ecommerce making them rich or wealthy. If you start a business trying to get rich you are headed for trouble.
If you start a business to help someone solve a problem you are far more likley to find "legs" for that business.
Luckily the world we live in today allows you to pursue a business, which focuses on solving somone's problem, in a far easier way than ever before. eCommerce platforms like Shopify, Amazon, Wordpress, Wix, Square, and many others are not going to make you rich.
However, you can create a business that creates equity and ultimately even wealth if you think about creating something that actually has value: e.g. a brand vs. trying to spin up a aliexpress to shopify site that has nothing of inherent value.
Here are a couple articles that you can review:
Is eCommerce a get rich quick scheme?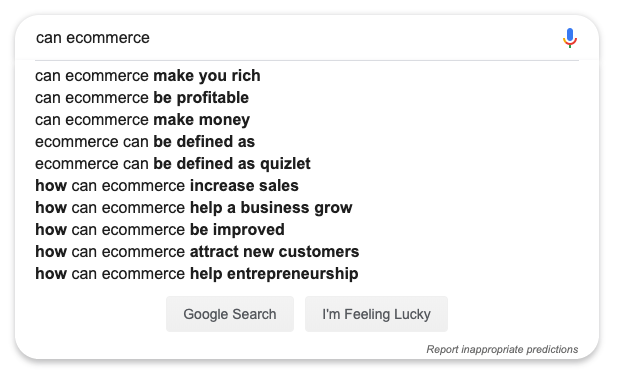 Top questions about how ecommerce can help the world:
can ecommerce make you rich
can ecommerce be profitable
can ecommerce make money
ecommerce can be defined as
ecommerce can be defined as quizlet
how can ecommerce increase sales
how can ecommerce help a business grow
how can ecommerce be improved
how can ecommerce attract new customers
how can ecommerce help entrepreneurship
how can ecommerce help to reduce inventory costs
how can ecommerce improve education
how can ecommerce sites attract visitors
how can ecommerce help a small business
how can ecommerce help in improving business process
how can ecommerce reduce cycle time
how can ecommerce add value
how can ecommerce improve sales
can you do ecommerce on wordpress
can you do ecommerce on squarespace


FINAL THOUGHTS:
Join Steve as well as a group of brilliant e-commerce entrepreneurs including Kevin King, Steve Simonson, and many more at the
Empowery Seattle Summit.
(Speaking of Kevin King and Steve Simonson you should find out what the buzz is about over at -->
kevinandsteve.com
)
Put this event on your calendar right now:
Thanks for being awesomer!
Steve Simonson has no personal affiliate deals with any of the named resources and his time is volunteered for the benefit of the Empowery eCommerce Coop.
Do you agree with Steve's comments on today's show? Connect with us using the below or find Steve on twitter or Instagram @stevesimonson and let him know just how wrong he is. ;)
The audience will still be able to keep in touch with the team online through the
website
and the
Facebook page
.
Please take a minute about engaging with the show's sponsors if you find what they're doing as valuable to you.
For the avid listeners, Steve wants to thank you personally for listening and if you haven't already would you please subscribe and leave a review?
Check out the
Empowery.org
site to learn more about the Empowery membership, vendorship, or affiliate partnership as well as the upcoming conference in Seattle.
Neither Awesomers.com nor
Steve Simonson
personally has any affiliate relationships. Any promotion or financial links are
Empowery
links provided for the benefit of that vital non-profit member owned cooperative. Steve does own a passive interest in SellerChatBot.com.